I hope you will find something interesting and enjoyable here.
On this website I plan to share,
my photos,
some of my poems,
ideas and writings.
It is my hope to include things that will be of some interest to most everyone, a little something for all to enjoy. There are links to other websites that I have found interesting or helpful in one way or another. Everything from writing to artwork and paintings, to computer repairs and website design help.
As with many things in life, this website is a work in progress. Should you find any problems please use the message form on this page or send an email to the Webmaster@sabreenwolf.com with a description of the problem.
Thank you.
I look forward to sharing this part of my life with you.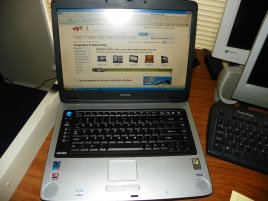 She Geek Computers
I have worked and played with computers and the internet since 1995. From my first Tandy 1000 until now, I have loved them and have a passion for them. I spent years studying computers and was proud to have obtained Masters in Computer Technical Support, Computer Fundamentals for Windows 95 through XP, as well as in Customer Assistance. I am also certified in Technical Help Desk, Microsoft Technical Help Desk, Network Technical Support and Word 2000 fundamentals and so on.
For me, repairing a computer is like saving a life. Many nice computers are thrown away each year over problems that can be repaired, sometimes cheaply and easily. Repairing and re-selling desktop and laptop computers is my way of being "Green" and "Earth Friendly".
Not to mention that my vision is to open doors to people who cannot afford to pay $1500 to $3000 dollars for a brand new high end computer. These low cost computers can open doors to education and communication for low income families, who other wise could not afford them.
So if your thinking of throwing that old computer in the trash or landfill, consider throwing it my way. This way not only are you being "Earth Friendly", but you will also help families who other wise could not have one.
Thank You for Your Time!
Next